Statewide Bitumen specalise in Coloured Bitumen Driveways, Asphalt Driveways, Asphalt Repairs, Carparks and Road Construction.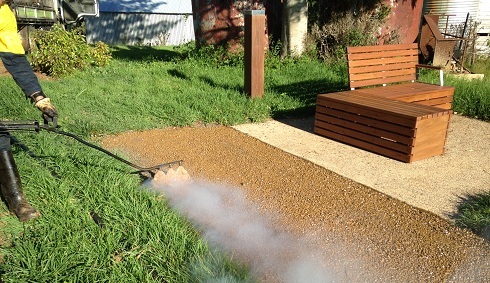 BUSHMATES COLOURED BITUMEN gold bitumen applied at 205 Degrees C
STATEWIDE BITUMEN & ASPHALT Townsville depot service the following areas and many more regional centres:
Townsville - Makay - Rockahampton - Bundaberg
Brisbane - Gold Coast & Sunshine Coast
Statewide Bitumen crews operate Hino 2 in 1 Bitumen Spray-Seal Trucks which have given us a unique advantage over conventional spraying systems and allow us to operate with smaller crews, with less overheads and have eliminated many hazardous components of conventional bitumen spraying. Chipping forward is the safest way to spray!
Our workforce can provide Hot and Cold Bitumen Spraying, Asphalt Laying, Asphalt Seal-Coating, Hot Rubber Crack Sealing and STATEWIDE BITUMEN are the only company in Australia that can supply HOT COLOURD BITUMEN spray-seal mixed to any colour you require using BUSHMATES 70-100 AND 50-70 PMB. Red Bitumen, Gold Bitumen, Brown Bitumen and High VIsibility Bitumen colours are available.
We have extensive experience in constructing carparks, roads and driveways and each crew supervisor hold a Certificate 3 in Road Construction & Bitumous Surfacing.

Local Government – Public, Sporting and Community Areas, Roadwork, Void Seals & Emulsion Seals, Road Shoulder Seals

Rural Community - Rural Driveways, Residential Driveways & Bush Roads
Decorative Gravel Driveways, Heritage Styled Bitumen
Entertainment Venues – Car-parks, Clubs and Pedestrian Areas, Nature Walkways, Golf Courses Tracks
Hospitality – Resorts, Hotels and Public Areas
Industry and Mining – Roads and Support Carriageways, Profilling & Deep lift asphalt work, Dust Seals
Construction – Domestic and Commercial excavation and drainage